Defying Aging
The Biologique Recherche Remodeling Face Machine is a state-of-the-art anti-aging machine that uses a combination of currents to sculpt your facial structure. This age-defying treatment targets the face, décolleté, and neck to restore elasticity, stimulate circulation, and re-sculpt the facial structure! Even after your first treatment, visible results can be seen immediately.
The Machine That Gives You 'Rich-Girl Skin'
How it works
The Biologique Recherche Remodeling Face Machine stimulates the cells, lifts the muscles and sculpts facial contours. Combined with targeted massage techniques, it reshapes, firms and activates the skims deeper regeneration processes and boosts the effects of the products—the skin is renewed, visibly toned and lifted.
A combination of the three currents (galvanic, low to medium frequency, and high frequency) re-sculpts the facial structure by lifting superficial and deep tissue with simultaneous currents.
Galvanic current increases the absorption of active ingredients in the serums and products we apply to your face. Low to medium frequency currents tone and re-shape your face. Electroporation, a high-frequency impulse current, makes the top layer of your skin more permeable so that the active ingredients used in your facial migrate into your skin cells better. As a result of these simultaneous currents, your skin looks regenerated and feels rejuvenated.
Results
Less marked wrinkles

More clearly defined facial contour

More pronounced cheekbones

Refreshed and regenerated skin

Wider looking eyes

And more…
Who it's for
We always recommend the Remodeling Face Machine treatment to anyone who has a big event coming up and needs to look their best! It is very popular amongst celebrities before red carpet events and brides before their wedding day! Schedule your Remodeling Face Machine Treatment today!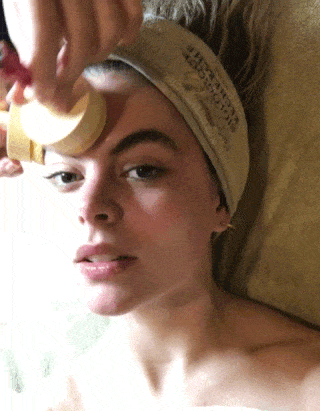 I had my Face Remodeled with Electric Currents and the Results Were Crazy!
By: Lauren Valenti
Marie Claire